Susan has been quilting for more years than she would like to remember. While starting with traditional quilts, she has moved to art quilts and modern quilts. She enjoys using images in her work as well as paints, pencils and other textile products in her quilts. Original designs and figuring out how to actually construct those designs has become a mainstay in her work. Taking and teaching classes remains a favorite activity because of the comradery and creativity that is encouraged.
Susan has had quilts juried into shows across the nation, including Houston, Paducah, AQS (Phoenix, Syracuse, Grand Rapids), Road to California, Pacific West Quilt show, Pacific International Quilt Festival, and the World Quilt Competition (Florida).
Susan and her husband Tom live near Jackson, WY and have a grown son and daughter.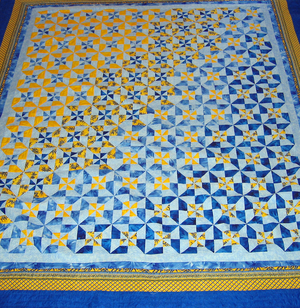 Susan Garrity Art Quilts ... a G7G production
Copyright 2016 Susan Garrity Art Quilts